Safety
Our safety-focused work culture promotes an injury-free environment and our mantra is "Safety First". We endeavour to provide the safest workplace possible for our employees, subcontractors, clients and anyone else who enters our construction sites.
We are dedicated to elevating the standards of safety in the construction industry through a wide variety of methods – from drug testing to our aggressive fall-protection program, which includes partnering with the leaders in the insurance industry to develop the next generation of fall-protection systems. Through innovative training and education programs, we also provide our employees and subcontractors with the tools, knowledge and resources they need to increase safety, reduce risk on every project we manage.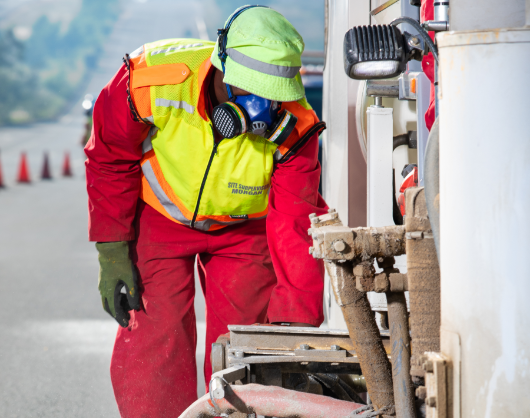 Quality processes
Mega Roads and Civils has a specifically designated quality and safety department that comprises a collection of individuals responsible for implementing our Quality and Safety Policy:
The Quality Team is supported by our Quality Assurance Team (consisting of operational teams: road marking, sandblasting, traffic signs and construction), as well as by our Knowledge Management Team and Training Team.
The Civil Quality Assurance Team ensures that all project deliverables are planned and implemented in accordance with our Quality Policy.
The Knowledge Management Team ensures that the latest technology is incorporated into our tools, techniques and the methods that we use to deliver high-quality services to our customers. It is also tasked with ensuring continuous process improvement.