About Mega Roads & Civils
Mega Roads and Civils is a B-BBEE Level 1, one-hundred per cent black-woman-owned road marking and road furnishing contracting company that operates across South Africa. We offer a wide range of value-adding products that complement our core business services.
We undertake large-scale standard road marking projects for the transport infrastructure industry; offer road stud and road signage installation; as well as the maintenance and removal of road markings. Furthermore, we supply road marking paint, road studs, road signage and accessories.
Mega Roads and Civils is registered with the Construction Industry Development Board (CIDB), as 5CE PE and 7SK PE contractors. We have a well-earned reputation for completing projects using high-quality supplies, excellent workmanship and completion within contractual timelines. Our skilled personnel and commitment to delivery has gained us a competitive advantage in the industry and our access to equipment further supports our ability to deliver excellence.
We own and maintain our own plant and equipment and are constantly upgrading our fleet and equipment to support our cost effectiveness. Our biggest reward is knowing that we provide jobs and skills to our employees as well as contributing towards a safe environment for road users through our products and services.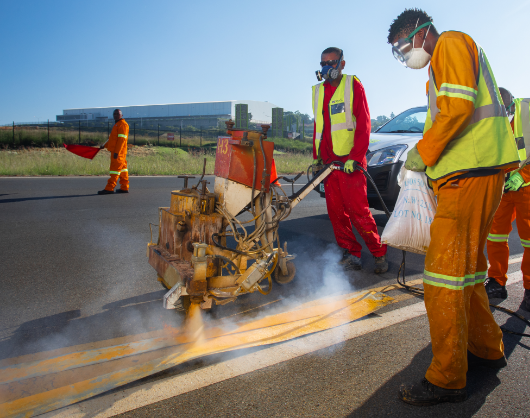 Our Vision
To promote black economic empowerment and employment in the construction sector and to deliver excellence in our field, by investing in our assets and constantly growing knowledge in our human resource base.
Our Mission
An unwavering commitment to quality in all that we do.
Our Values
Client-focused
Integrity
Innovative
Sustainable
Uplifting
Sustainability
We are dedicated to providing employment for the inexperienced and disadvantaged, as well as equipping our employees with the necessary skills required to excel in our industry. We incubate and assist small emerging companies (e.g. Tshwane-based company Neat Roads) and believe in giving back to the communities that we work in.  Our past contributions include sponsoring community soccer teams and donating to orphanages such as LIV.
Achievements
We have had the privilege of being recognised by industry awards, including:
The Alec Rogoff Broad-based black economic empowerment award
KZN Small BEE Company of the Year
Winner in the SMMEs Fair
Lion's Den competition finalist
KZN Regional Productivity Awards finalist